Here is a step-by-step guide to voting on Opa Vote.
Firstly, apologies but some of you erroneously got 2 emails from Opa Vote on Friday 24th June. The second email is the correct vote. If you've had any issues with voting please try the second email first.
Secondly, the ballot screenshots below is a sample ballot only but uses this actual vote. There is no CoPower endorsement implied in the projects listed in the vote screenshots. They have been listed only to assist customer member participation in the vote.
Meanwhile here's the steps:
Step 1: Open the OPA Vote email
It comes from "OpaVote Voting Link" and the subject starts with "Democratic Budgeting". It looks something like this in your inbox:

Step 2: Read the email and click the Vote button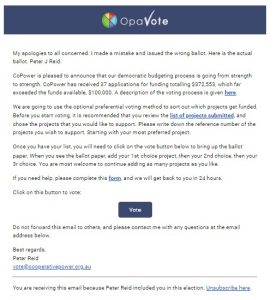 You'll have an email message from our co-operative Treasurer and returning officer Peter Reid. The big blue "vote" button is what you hit to go to your ballot paper. Your link is unique so there can't be multiple votes with your email address.
Step 3: Voting and choosing your preference order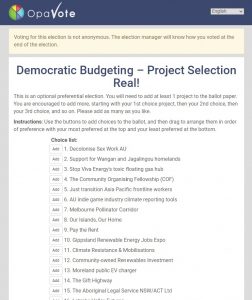 The link will take you to a screen that looks like the above. Please note that each project option has a number next to it. This number has been randomly generated but corresponds to the order that the project appears on all our summaries of the projects. Click the "add" button next to each project that you would like to preference (this could be one project or all projects in a preference order).
The projects will then be added to your voting box below in the order that you clicked and it could look something like this: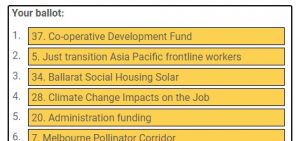 You can see that the first set of numbers on the left correspond to your preference order and the second set of numbers is the randomly generated project number. You can change your preference order really easily by just clicking and dragging the yellow box up or down the ballot box. You can also remove an option but hitting the "remove"  button that will now appear to the left of the white project list.
Then once you are happy with your preference order and the number of projects you'd like to support hit the big green "Vote!" button down the bottom.

Step 4: Confirming your vote
Once you've clicked vote you'll get a chance to double check your votes and preference order. The below dialogue box (with your preferences) will come up: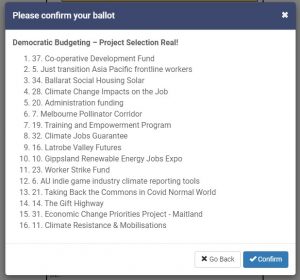 If you're happy with your choices then hit the blue "confirm" button but if you want to make a change then hit "go back". Once you've hit "confirm" it's all done – there's no take backsies from that point.