Congratulations to our 2023 democratic budget recipients
The results of our third democratic budget are in!
As a customer member, you decide what we do with every single dollar of our cooperative's income – and this year, a record 1,118 customer members took part – which is 317 more than last year!
CoPower wants to thank all our customer members who voted, came along to our workshops and shared our democratic budget on social media – and we want to thank all the incredible community partners who brought us their project ideas and organised throughout the vote!
Unfortunately, we can't fund every amazing project we get pitched – but the more customer members we have, the bigger our impact budget gets.
If you want to see more projects funded next year, make sure you get your family and friends to join CoPower and use our Refer a Comrade program so you both get $50 off your next power bill.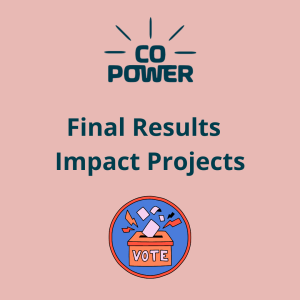 Our $51,500 impact budget is what we use to fund good works in our communities. We invest this money into projects run by organisations our members are active in or to support causes that are left out by other major funders like strikes and climate resistance.
We are in a privileged position to fully fund eight projects this year!
From next month, we will be starting to fund these five projects from our community partners:
Our customer members also choose to continue CoPower's solidarity funds that we use to support strikes, activists and communities in need, a tradition we've had since we started.
$9,000 to CoPower's Community Renewables Fund which invests in community renewables revolving funds like BREAZE's Social Solar Fund or the Energy Innovation Cooperative's Southern CORE Fund
$3,000 to CoPower's Striking Workers Fund which donates to unions and workers strike funds and directly supports workers standing up for good jobs and respect.
$3,000 to CoPower's Fighting Climate Crimes Fund which directs funds towards important climate mobilisations like School Strike for Climate and cover the living and legal costs of environmental activists in Australia risking their lives and livelihoods.
Earlier in our democratic budgeting deliberations, our customer members voted to allocate $51,500 to the Impact budget. The way the numbers fell, that would have meant one of these projects wouldn't have been fully funded, so the CoPower board voted to top up the pool to make sure every project that got voted up, got fully funded.
.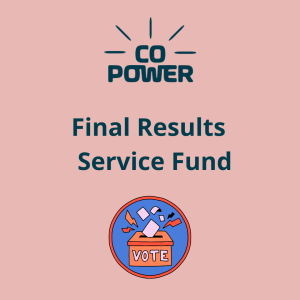 Our $51,500 service budget is what we use on helping out our customer members. We allocate this money to priority areas which then invests in services over the course of the year that reduce the cost-of-living pressures for our customer members, help them get off fossil fuels or deliver major capabilities that help our customer members better engage with the cooperative like upgrades to our billing and payments systems or tracking their household energy usage.
Customer members voted for the following allocation:
$17,500 to the Renewable Energy Service Fund that will be spent on projects that help our customer members to benefit from the transition to renewable energy, like helping people to get off gas through electrification, investing in community renewable energy projects, and investing directly in renewable energy projects and batteries.
$17,000 to the Hardship Service Fund that will be spent on projects that help our customer members suffering financial stress, like providing electricity bill relief for those most in need, introducing a "pay if forward" scheme where those that can afford it contribute, review supports in the hardship policy and advocacy for changes in the rules governing the provision of electricity.
$12,000 on the Energy Efficiency Service Fund that will be spent on projects that help our customer members to use less energy, like subsiding energy efficiency audits, energy efficient appliances such as heat pump hot water systems, draught proofing as well as better linking to existing community services.
$5,000 on the Digital Experience Service Fund that will be spent on projects that improve the digital experience of our customer members, like investing in capabilities to improve our billing and payment system, monitor energy usage, better expand our reach through referral and incentive schemes and use of electricity service to realise our cooperative values.
Next steps
Customer members can now join the Service Fund Working Groups. Click here for the registration form.
 CoPower will produce an options paper for each of the 4 Service Funds.  The options paper will detail the different activities these funds could be spent on over the next 12 months.  The options paper will incorporate customer member ideas from the survey as well as existing plans and initiatives.
 A workshop will be convened for each of the Service Fund working groups.  The workshop will review the options paper and prioritise the activities to be funded.  The prioritised activities will form a draft proposal.
The draft proposal will be made available to all customers and organisational members for comment.  The proposal will then be reviewed and adopted by the CoPower board.
Our operational budget
Our $101,000 operational budget is the reinvestment we make in the cooperative to keep it going. This includes staff, growth, administration and organising costs, design work, and Paying the Rent. These projects are overseen by our volunteer board, which is made up of representatives from our member organisations and independent directors. Member organisations are democratic organisations like environmental groups, trade unions, other cooperatives, community energy groups that part-own CoPower and provide in-kind help for it to grow.
The operational budget is expected to spend roughly $48,000 to pay our part-time staff member, $33,000 on growth organising, $12,000 on marketing with independent media outlets and improving our engagement with customer members, and $8,000 on subscriptions and other administrative costs.
Our full operational budget can be viewed here.
Getting better all the time
Our democratic budget is always a work in progress.
We changed a lot this year. We're keen to hear from project proposers and customer members on how they thought this year went and how we can improve next year.
If you have any thoughts or suggestions, email us at [email protected].
Highlights from our last few budgets
In the first two years of our democratic budget cycle we have made a positive impact much larger than our relative size. Such highlights include but are not limited to:
Funding community renewable energy revolving funds including through BREAZE, and the Energy Innovation Co-operative's Southern C.O.R.E Fund.
Acting with inter-cooperative solidarity through becoming an inaugural funder of Australia's first co-operative development fund, The Bunya Fund.
Supporting striking workers and fierce climate organisers through our ongoing solidarity funds.
Standing up for international climate solidarity through the support of Union Aid Abroad's Just Transition and climate justice projects in Nepal and the Philippines.
Helping to fund a Melbourne Pollinator Corridor between the West Gate Bridge Park and the Botanical Gardens.