If you refer a comrade, friend, family member or co-worker to CoPower both of you will get $50 off your next electricity bill. Energy Locals are passing on their standard refer a friend program to our customer members.
All your friend has to do is mention your name under the "How did you hear about us?" section on our switch form and you'll both save $50 on your next electricity bill. If you've got multiple people switch the referral bonus still works. It's that simple.
Here it is all set out for you: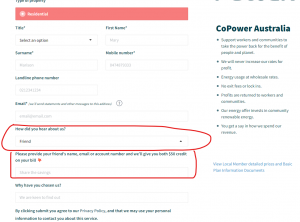 For full Refer a friend Terms and Conditions, visit our partner's webpage.